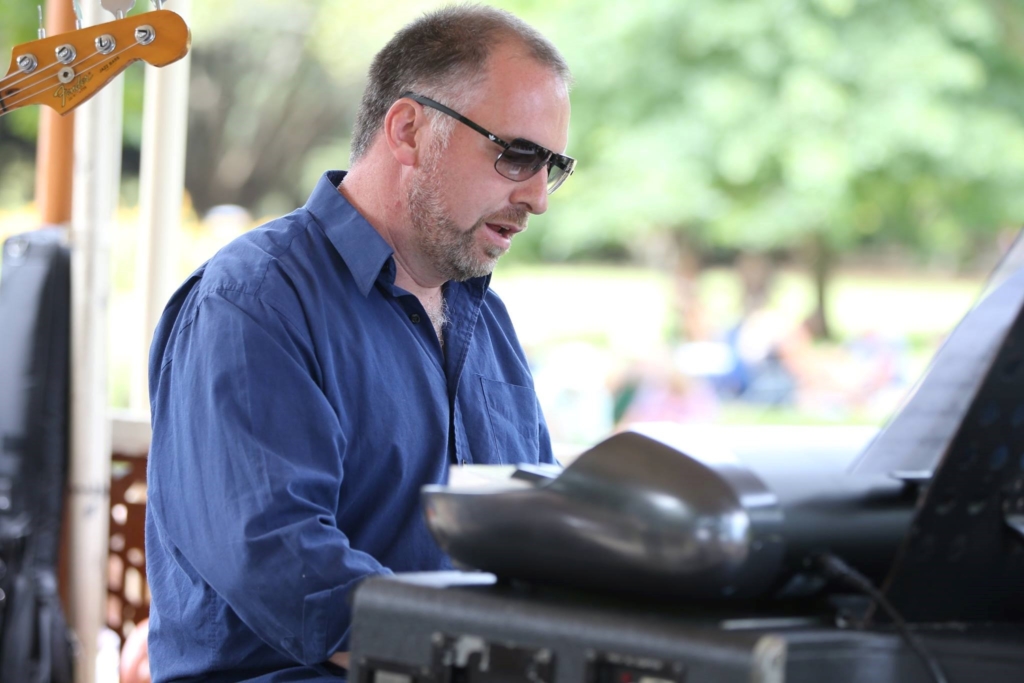 Saturday 24th March
Blue Pearl Trio
..featuring Mark Baynes on Keys
Aaron Coddel on Bass
Neil Williamson on Drums
Auckland's musical treasure Mark Baynes is a contemporary pianist, accompanist, recording artist and composer specialising in improvised music and a wicked sense of humour.
Jazz-Live Music
­
Just a little part 70's folk rock, one quart deep south country,
shadows of a gospel soul priestess and a former life of a jazz & blues diva,
Catherine Tunks is a performing artist that doesn't buy into the genre moulding factory very easily.
Songstress Catherine Tunks
Saturday 18 August at the Esplanade Hotel 6 pm-9.30 pm
John Tuala Duo
Saturday 11 August at the Esplanade Hotel 6 pm-9.30 pm
Stoic Auckland muso (known as JT or the Big JT) has endured the ever changing Auckland music scene for over twenty years. This is evident in his voice, like that of a warm rich matured southern bourbon whiskey.
JT has honed and crafted a distinct sound finding his home in the acoustic blues style, enthralling audiences with energy and timeless soulful playing wherever he performs.
"It's like BB King, Ben Harper and Smokey got mashed up in a blender with a sprinkle of Down to the Bone and that was the emancipation of JT!" -Petra Rijnbeek
John is joined by Saxman Andrew Dixon
Tom Rodwell
Artist Tom Rodwell is a critically acclaimed guitarist and singer performing a hybrid of blues, calypso and spirituals, active as a songwriter, composer and session musician.
Described as "Sheffield's answer to Lightnin' Hopkins," by the NME, the singer-guitarist has appeared widely in the UK, Switzerland, Holland, New Zealand and the US since 2003, both solo and with his ever- changing band Storehouse. He's opened for artists including Kitty, Daisy & Lewis,Trinity Roots, Leon Russell, John Butler Trio, Charles Bradley, Son of Dave, C.W. Stoneking, Otis Taylor and Derek Trucks – who remarked, "You don't hear that anymore; beautiful tunes, beautiful groove!"
His uniquely primitivist yet dance-orientated take on rhythm and blues music takes influences from calypso, slave-era spirituals and West African juju music – making his playing thoughtful, hard to categorise, yet instantly accessible, and bursting with salacious and surreal lyrics.
http://www.tomrodwell.com
http://storehouse.bandcamp.com
tomrodwell.music@gmail.com
We still have live music this Tuesday from 5.30pm in the bar.
Celebrate Bastille Day with Linn Lorkin's
FRENCH TOAST TRIO
The trio of French Toast features Linn Lorkin, chanteuse, Hershal Herscher, accordéoniste and Pierre Scott, bassiste. With a large repertoire of well- known French chansons sung in French and English and occasional forays into Italian and German, they have been delighting audiences in New Zealand for many years now, effortlessly taking them on a magic musical carpet ride to an intimate café in the heart of Paris, a piazza on a warm Roman night, a Berlin cabaret.
French Toast have done three national NZ tours and have performed in Sydney, Melbourne, Florida's South Beach and the Island of Jersey. Their 2 CDs "In a French Café" and "French Toast, Live at Chez Nous" have been consistent best-sellers.
"… this Parisian-chic trio.. makes you feel like you're in Montmartre or the Marais". " Peter Calder, New Zealand Herald, 4/11/2014
"..the Piaf of the Pacific" New Zealand Listener
Video Clip: French Toast at La Cantine du Torchon https://www.youtube.com/watch?v=KR63vdHZxBU
Roselles on Saturday 30th 6-9pm. Formed a few years ago, 'The Roselles'. evolved from Auckland bands (Vertigo, Deep Creek, Atomic, Retrogrande)."we're now loving the freedom a duo provides". The Roselles have great vocals and harmonies – Lesley on guitar, Rosie keys and ukulele, with backing tracks, we play everything from Country Rock Pop, and a touch of jazz and blues – if its a classic hit, its fair game!
we would love to see you at the Esplanade bar!
No Cover Charge
ALSO Live Jazz on Tuesday's at 5.30pm to 8.30pm. The great Sirrah Duo and Paul TT & Friends. No cover charge. See you here for a great night out.
PLUS
Denis Hepi Trio by the fire, in the bar:-Live Music Saturday 7th July 6.00-9.00 celebrating American Independence Day-this week, at the Esplanade. Back by popular demand. A great night out.
Local legend and class act, Denis Hepi plays Southern Blues for American Independ-ence Day. Not only a superb guitarist with melting warm tones from his Godin Multiac Ny-lon, Hepi is also a vocal protege of the late Mark Murphy[Stanford Uni.Cali.Jazz Work-shop]. His influences also include soul stars Sam Cooke, Stevie Wonder and the early 70s Glen Innes Ak Funk of James Brown, Sly Stone, Donny Hathaway and Marvin Gaye.
Hepi will be backed by session heavy weights Alex Griffith on bass and Neil Williamson on drums.
No cover charge. ALSO Meet Donald Trump and Barack Obama
Check out our Facebook page for updated information.
(extending the summer jazz series by popular demand)
Sirrah Duo in the bar:- Live Music Back Tuesdays, 5.30-8.30 at the Esplanade. Back by popular demand. No cover charge
A very British Queen's Birthday weekend with Lee Gray on Saturday night
Since moving to New Zealand in 2011, Lee has become one of the most sought after performers on the Auckland music scene.
With an extensive repertoire of well-known covers and a unique style of live looping, Lee's music is always in high demand.
Having performed at the opening ceremony for the FIFA U20s World Cup '15 in front of a packed house of 25,000 at Auckland's North Harbour Stadium and a worldwide TV audience of over 4 million, he is certainly not to be missed in the intimate setting of The Esplanade Hotel bar
Lee has two solo albums to his name and is one half of the international recording duo, Lee Gray & The Beat.
BLUE PEARL DUO 7pm-9.30pm Saturday 5th May
Hit the sweet spot, blending the 'feel good' grooves of soul classics such as Stevie Wonder, Marvin Gaye and Al Green.
Makareta Umbers is a velvet-voiced jazz singer and modern latin conga player. Her original jazz album 'Love on a Swing' was released in 2014.
Guitarist Joseph Anderson delivers slick, super tight funk and gritty blues with impressive precision and attitude. He has earned a reputation as a seasoned and versatile musician.
Blue Pearl band have played the N.Z. jazz festival circuit over the last few years and are regulars at inner city boutique bars, wineries and summer park events.
The fabulously popular VoxNova returned in April to the Esplanade Hotel in Devonport. We will certainly invite them back again!
Voxnova Gypsy Jazz band At the Esplanade Saturday 7th April, 6.30pm-9.30pm.
Nigel Gavin, award winning acoustic guitarist, recording artist, famous overseas,
with Alan MacDonald, Doug Robertson & Alberto Santarelli.
Summer Jazz Series
Saturday 24th March
Blue Pearl Trio
..featuring Mark Baynes on Keys
Aaron Coddel on Bass
Neil Williamson on Drums
Auckland's musical treasure Mark Baynes is a contemporary pianist, accompanist, recording artist and composer specialising in improvised music and a wicked sense of humour.
He has performed alongside some giants of jazz including Eric Marienthal (Chick Corea's Electrik Band), Mark Kramer (Eddie Gomez), Cley Jenkins (Buddy Rich & Count Basie) as well as Andy Vargas (Santana), Tony Christie (UK) and a Broadway cast. Local acts include Tim and Neil Finn, Don McGlashan, Che-Fu, King Kapisi, The Mint Chicks, Stan Walker, Anika Moa, Batucada Sound Machine, Tina Cross, Annie Crummer, Tama Waipara, Bella Kalolo, Jackie Clarke, Frankie Stevens and the Auckland Philharmonia Orchestra.
check out his website to read more: http://www.jazzpiano.co.nz/look/